The Alfa Laval Aseptic Mixproof Valve ensures product safety and provides full protection against the intrusion of harmful microorganisms, even during unwanted pressure spikes. This double-seat mixproof valve is perfect for use in sterile process applications in the food, dairy and beverage industries. Easy to configure, operate, maintain, it reduces the total cost of ownership by up to 45% compared to other aseptic valves.
Maximize product safety while minimizing costs
Maximizes product safety due to the sterile, modular design of the valve body and hermetic seal
Reduces total cost of ownership compared to other aseptic designs
Configures easily to meet virtually any requirement
Increases cleaning capabilities with highly flushable design
Minimizes product loss
Boost uptime, product safety, productivity and shelf life with the Alfa Laval Aseptic Mixproof Valve. It enables the simultaneous flow of two different products or fluids through the same valve without risk of cross-contamination. With its highly flushable design and no domes in the product and steam areas, this modular, easy-to-configure double seat mixproof valve makes cleaning and sterilization faster and more efficient than other aseptic mixproof valves. It also complies with the strict requirements of 3-A Sanitary Standards.
Outstanding flexibility and modularity
The Alfa Laval Aseptic Mixproof Valve shares the same versatile platform as the proven aseptic version of the Alfa Laval Unique Single Seat Valve (SSV). Configure the aseptic double-proof valve to meet virtually any requirement. Choose a standard valve body and a tangential valve body or use two standard valve body types. Then mount the valves in either a horizontal or a vertical position. Tailor the valve to your exact requirements by selecting the right actuator, seat lift, steam valve and options for steam temperature monitoring.
Exceptional hermetic seal
Safeguard process efficiency and product safety while reducing costs with the Alfa Laval Aseptic Mixproof Valve. Its hybrid diaphragm with PTFE face and reinforced EPDM backing ensures the same proven hermetic seal that is found on the Alfa Laval Unique SSV Aseptic Valve. This drastically reduces the total cost of ownership for sterile processing compared to steel bellows-type aseptic valves.
Ease of maintenance and parts replacement
Maintenance is easy with the Alfa Laval Aseptic Mixproof Valve. Simply follow the same maintenance routines and use the same replacement parts as the Alfa Laval Unique SSV Aseptic Valve. This enables you to streamline your parts replacement inventory and save money.
Model sizes
ISO 51 mm (2"), 63.5 mm (2.5") and 76.1 mm (3").
Low total cost of valve ownership
Realize savings of up to 45% using the straightforward, reliable design of the Alfa Laval Aseptic Mixproof Valve instead of aseptic valves from other manufacturers. Longer service life, minimized product loss, greater product safety and more processing uptime make significant cost reductions possible. What's more, effective CIP and SIP procedures reduce cleaning cycle times as well as consumption of cleaning fluids, water and utilities.
Construction
The Alfa Laval Aseptic Mixproof Valve is a double-seat valve based on the same modular architecture as the well-proven aseptic version of the Alfa Laval Unique Single Seat Valve (SSV). It is comprised of a valve body, valve plug/diaphragm, actuator and cleaning options and accessories that support a broad range of process requirements. This diaphragm is composed of a PTFE face and reinforced EPDM backing, which create a hermetic seal to ensure sterile processing conditions. Built-in leakage detection enables operators to inspect the valve easily without having to disassemble it and to act immediately if action is required.
Operating principle
This pneumatically operated aseptic double-seat valve is controlled from a remote location by means of compressed air. Aseptic and modular, it has few and simple moveable parts, which makes it a very reliable valve with low maintenance costs. An integrated valve plug/diaphragm secures aseptic operation.
To separate the two fluids, the valve has two independent plugs and seals. The space between the two plugs forms a sterile barrier in the leakage chamber to ensure aseptic processing and prevent mixing of products. In the rare case of accidental product leakage
from one seal, the product flows into the leakage chamber and is discharged through one of the steam valves, which also acts as a leakage outlet.
When main actuation takes place, the two product valves opens; the two steam valves must close to prevent product spillage. The sterile barrier is then moved from the leakage chamber to the backside of the plugs in the two steam valves.
To clean the leakage chamber after main activation, you can utilize condensate to flush and when it is clean you add the steam to sterilize and generate the sterile barrier.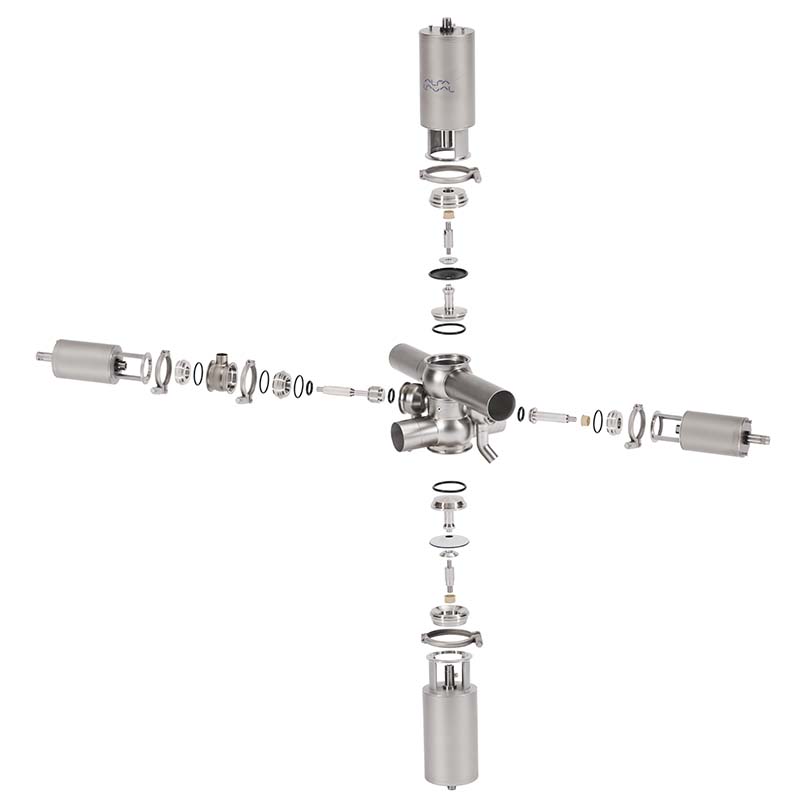 Options
Control and indication: ThinkTop, ThinkTop D30, ThinkTop Basic or IndiTop
Product wetted seals in EPDM or HNBR
Maintainable actuator
Seat lift
Tangential or standard valve housing
Temperature sensor or transmitter
Hygienic or aseptic steam valves
Changeover or shutoff steam inlet valve
Part of a broad valve range
Alfa Laval offers a comprehensive range of valves intended for hygienic applications in the dairy, food, beverage,home care, personal care, biotechnology and pharmaceuticals.
For a broader valve range, explorer the different product categories: ball valves, butterfly valves, control/check valves, double seal valves, regulating valves, safety valves, sample valves, shutter valves and single seat valves.
Save water with ThinkTop
Do something good for the environment and save up to 95% in CIP liquid when cleaning your valves. Innovations like ThinkTop sensing and control units make more efficient use of resources while safeguarding process hygiene. Add ThinkTop to your valves to optimize your processes.
Article: Choosing the right aseptic mixproof valve
Do you want to learn about how choosing the right mixproof valves will ensure sterile processing, gain greater flexibility, increased product safety and lower total cost of ownership?
360° Service and maintenance videos
Alfa Laval Unique single seat valves - maintainable actuator
Alfa Laval Unique single seat valves – replace actuator bushing
Alfa Laval Unique single seat valves -replace product-wetted seals
Alfa Laval Unique single seat valves -replace product-wetted seals
Aseptic SSV
Unique SSV aseptic valve for sterile process applications. A one-piece diaphragm provides hermetic sealing against intrusion from the atmosphere, ensuring full protection against the effects of microorganisms during processing.
Unique DV-ST UltraPure
The Unique Diaphragm Valve UltraPure meets the requirements of most sterile and ultra-hygienic processes.
Thinktop
Designed for use in the dairy, food and beverage, and biopharm industries, ThinkTop provides real-time information about valve operating status 24/7 while helping to improve production performance and secure traceability.
Ten top tips - Valves
Here are some tips and service videos to show how you keep your hygienic valves in tip top condition
Product catalogue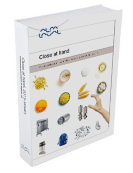 Latest 'Close at hand' online version