Better quality industrial fluid extends equipment lifetime and levels of productivity, and reduces costs. Clean fluid also means fewer lubricant changes and less environmental impact. Alfa Laval has a range of proven high-speed centrifuges (fixed and mobile) to extend the service life of all kinds of service fluids and, by extension, your systems, whether you're a small workshop or a large plant.
Effective removal of oil and solids from different types of fluids
Prolongs tool and fluid lifetime
Low total cost of ownership (TCO) and less downtime for service
Cleaner cutting fluids increase precision
Reduces wear on system components saving costs and boosting productivity
Removes both free/tramp oil and solids in one operation – even small particle sizes
Due to their high speed, disc stack technology, and automatic discharge, Alfa Laval centrifugal separators are extremely efficient in removing fine solid particles or liquid contaminants from different kinds of service fluids. They remove more than 99% of all solid particles between 2 and 5 μm from a lubricant, and virtually all of the oil but none of the additives. This also reduces bacterial growth which is harmful to the fluid and contributes to a healthier working environment.
Cutting fluid separation
Keeping your cutting fluids free from solid and liquid contaminants prolongs tool and fluid lifetime, which means a lower total cost of ownership and less service downtime.
Wash liquid cleaning
When it comes to cleaning wash liquids, the replacement process can be costly thanks to disposal and downtime. With efficient separation, you can maximise productivity and efficiency for longer.
---
Centrifugal high speed separators for industrial fluids cleaning
Centrifugation is a proven, sustainable technology to get rid of tramp/free oil and/or fine particles in coolants and wash liquids. Cleaning on a regular basis significantly prolongs the service life of your fluids and, by extension, the service life of your system. Then there are the savings on fluid, filter, valve and pump replacement as well as disposal cost savings.
Working principle
During the separation process, the centrifugal force presses the heavy particles present in the service fluid outwards against the walls of the separator. These are discharged automatically from the bowl to the sludge tank. If two liquid phases are present (such as coolant and tramp oil, or neat oil and water), the centrifugal force will cause the two phases to separate. The light phase and heavy phase exit separately through different outlets of the separator.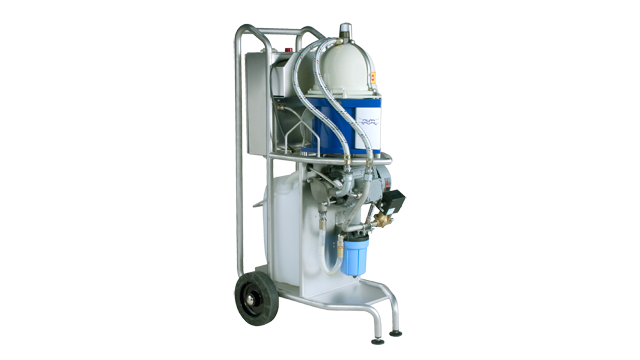 Alfie
Can be linked to a bypass flow, ensuring less downtime for service
Disc stack separators provide simultaneous, three-phase separation of oil and sludge
Designed for operator convenience
No machinery redesign required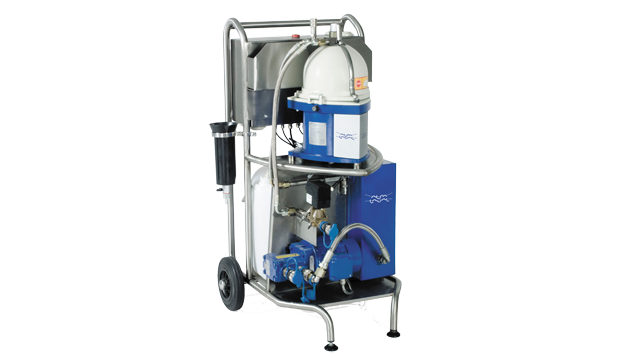 Emmie 2
Installed in a bypass flow so no machinery alterations required
Plug-and-play operation
Requires no supervision once started
Disc stack separator provides rapid, simultaneous and continuous three-phase separation of water and particles
AlfaPure
Removes water, abrasive metal fines and other particles as small as 2 μm
Plug-and-play module for easy installation
No plant redesign required
Disc stack technology speeds up the separation process
Cleaning technologies for industrial fluids
If you clean your industrial fluids you can make substantial cost savings. But how do you determine which technology is the most efficient and represents the least overall cost for your particular application? Here we look at the four most common options – centrifugation, filtration, skimming and coalescence – to help you decide.
The four technologies in brief
Centrifugation separates matter of different densities – both oil and particles
Filters use different mesh sizes to capture solids only
Skimmers use an oleophilic collecting device like a belt or a disc to collect oil
Coalescers remove oil from industrial fluids
The best technology is the one that suits your application
Centrifuges direct clean industrial fluid back into your process while the separated contaminant is continuously discharged. Particles are contained in the separator bowl for later disposal or are discharged automatically.
Filters commonly capture solids in a disposable cartridge, which needs replacing regularly.
In skimming, the oil adheres to the outside of a floating, closed-loop tube as it is drawn across the surface of the water, adjusting automatically to changing water levels.
Coalescers can only work if the industrial fluid is almost particle free. Most often, a coalescer is used in conjunction with filters to ensure the removal of solid particles and water in one system.
Cleaning technologies compared
Industrial fluids – centrifugation
With industrial fluid centrifugation you can discard waste without the need to purchase disposables such as filter cartridges. This makes industrial fluid cleaning more convenient, cost-effective and sustainable.
Powerful, productive and cost-effective
Removes oil and solids in one operation
Handles even small particle sizes
Low maintenance gives more process uptime
Longer equipment lifetime
Low total cost of ownership (TCO)
Only removes loosely emulsified oils but leaves the industrial fluid emulsion intact
Centrifugation uses a force 5,000 times stronger than gravity to separate particles of different densities and continually directs clean fluid back into your process. The process releases the oil while the contaminating solids are stored separately. Centrifugation enables you to handle large cleaning volumes and can withstand a temporary high influx of oil.
Industrial fluids – filters
There are a number of questions you need to ask yourself when considering which type of industrial fluid filter you need. For example, does the process use more than 50 litres of fluid per hour? How high are the contamination levels? Is fluid contaminated with particles and oil? Can you dispose the filters in a correct way? Do you have a reliable supply chain when you need to replace a filter?
Easy to operate and install, more costly to maintain
Relatively simple operation – few moving parts
Low capital investment
Industrial fluid filters use cartridges of different mesh sizes to capture solid particles. Particles larger than the mesh are captured and removed from the fluid, while the smaller ones remain. When the cartridge is full, it has to be removed and replaced. The old one has to be safely discarded/disposed of.
What to consider
Although industrial fluid filters don't require much capital investment, there are a number of factors that influence their effectiveness which may lead to a higher total cost of ownership (TCO).
No oil removal so needs to be combined with coalescers or separators
Need for disposables leads to higher operating costs and compliance with increasingly strict environmental regulations
Limited performance – only captures solids larger than the mesh size (typically 10-30 µm)
Captured particles can be released again if filter is exposed to pressure shocks at start-up/stop
Filter needs monitoring/changing regularly to avoid clogging (particles pass through the bypass valve)
Fluctuation/reduction in pressure when filters are contaminated
Industrial fluid – coalescers
Filters are not able to capture large amounts of oil or other liquid contamination, so if you choose a filter system to clean industrial fluids, you will have to add a coalescer module if you need to remove oil.
Extra corrosion protection
Relatively simple operation – few moving parts
Low capital investment (below a certain capacity)
Coalescers add an additional process to filter systems. They work by combining oil droplets so they float to the surface more readily.
What to consider
Although industrial fluid coalescers are easy to install and maintain, their effectiveness is limited which can lead to process inefficiency and higher lifetime costs.
Cannot remove solid contamination
Industrial fluids have to be very clean from particles to enable coalescence
Cannot be used if special additives or surfactants are present
Cannot cope with high amounts of free oil in the fluid
Industrial fluid skimmers – the considerations
Industrial fluid skimmers are a simple and cheap solution for removing small amounts of oil under stable conditions. They are best suited to processes where the industrial fluids are clean. They do not handle changes in properties of the oil types or the throughput-volumes very well.
No solid contamination removal
Cannot handle medium to high amounts of free oil in the fluid
Removes a mixture of oil and water not just the oil
Performance varies greatly according to oil
Cannot be used if special additives or surfactants are present
---
Prolonging the life of your coolants
For the metalworking industry, coolants are a major expense. Less downtime, higher efficiency, lower operating costs and an enhanced sustainability profile are just some of the compelling reasons to switch to one of our dedicated liquid cleaning modules.
Go with the flow
Automotive, metalworking, electronics, plastics – whatever your industry, service fluids are probably an important part of your process – for lubrication, cleaning, cooling, corrosion prevention or transmission of mechanical motion via hydraulic systems. For maximum uptime in production and long service life of equipment and fluids, these fluids must be heated, cooled and cleaned efficiently.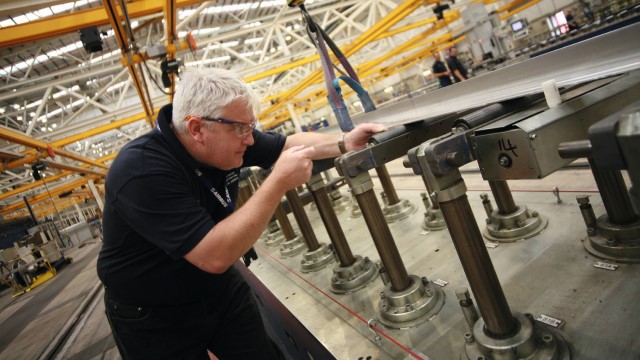 Productivity takes off at aerospace plant thanks to AlfaPure Z3.
In the UK, AlfaPure Z3 coolant treatment systems have helped the Airbus plant at Broughton, Flintshire eliminate coolant fouling and improve productivity. Read the full story by downloading.
AlfaPure cuts coolant costs and extends tool life at Ford, Bordeaux.
An Alfa Laval high speed centrifugal separation system was installed to remove tramp oil and small particles from coolants in order for efficient re-use of coolant, giving increased tool lifetimes and a healthy working environment in the plant.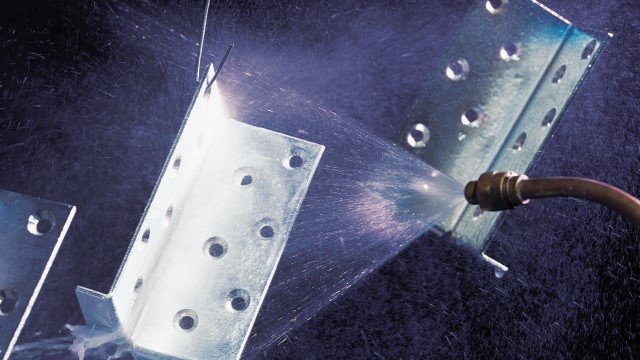 Alfa Laval wash liquid cleaning module pays for itself in one year.
Renault Cléon, France, installed an Alfa Laval separation system to clean wash liquids for engine components, removing 70 litres of tramp oil per day. This provides them with annual savings from cost related to replacement and disposal of wash liquids, and ensures efficient component washing.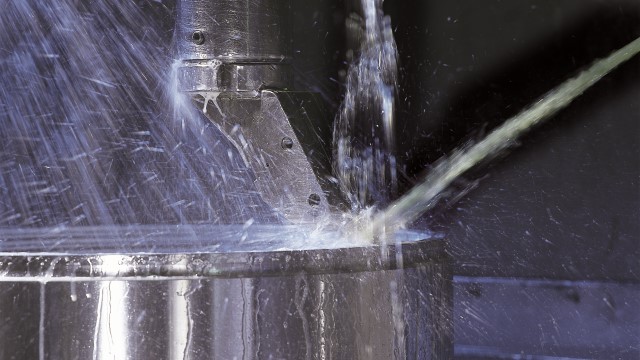 High speed separators cut operating costs for French engine builder, Française de Mécanique.
Thanks to a new cleaning system incorporating Alfa Laval centrifugal separators, the wash liquids used in the production process last for seven months, compared with 2–10 days using the old cleaning system.
Ensure a long service life
You can expect decades of efficient industrial fluid cleaning if you take care of your separator correctly. In short, it's a matter of reading the manual and using genuine parts and the right tools. We offer a comprehensive package of detailed service instructions and specific service kits with genuine spare parts.
Maximize uptime
Support long working life
Ready-to-use kits simplify maintenance and save time
Reduced order handling time
Global distribution centers for rapid delivery
Preventive maintenance package
Alfa Laval Preventive Maintenance includes an intermediate service (IS) or a major service (MS) packaged in a box with the parts you need. The service interval depends on running hours or a fixed period of time.
We recommend that you:
Always follow the service instructions in the separator manual
Perform an Intermediate Service every 3 - 6 months (2-4,000 hours)*
Perform a Major Service every 12-18 months (8-12,000 hours) depending on machine type and process conditions*
* The manual gives the maximum requirement. Industrial fluids cleaning is in general not a severe application and the intervals are somewhat flexible.
Manuals for industrial fluids cleaning separators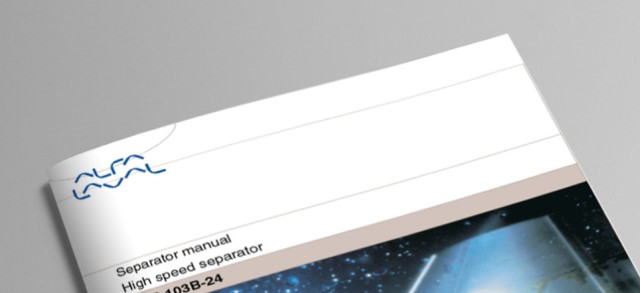 You will find the latest manuals for your fluids cleaning module here.
They include:
Safety instructions
Operating instructions
Service instructions
Trouble-shooting
Technical specifications
Please note that because some product ranges has been in operation for many years there may be slight variations in design.
The manuals cover all aspects of running and taking good care of your investment.
We have manuals for:
Alfie 200
Alfie 500
Emmie 2
WSPX 403 (AlfaPure S2)
WSPX 604 (AlfaPure S3)
WSPX 407 (AlfaPure S7)
If the manual for your industrial fluid separator does not correspond with your product, please contact us.
---
Ease of installation, operation and maintenance
See for yourself by exploring our service films to help you get the best out of your cleaning module.
Alfie 500 - unboxing
This video shows how your ordered Alfie will arrive. All the packages are opened and contents are shown and explained.
Alfie 500 - how to operate
This video explains how to operate the Alfie 500. You will see how to set it up and start cleaning your industrial fluids.
Alfie 500 - how to operate (by-pass)
This video explains how to operate the Alfie 500. You will see how to set it up and start cleaning in a by-pass setup.
Alfie 500 - how to operate (tank)
This video explains how to operate the Alfie 500. You will see how to set it up and start cleaning in a tank-to-tank setup.
Alfie 500 - cleaning of the bowl
This video shows how to clean the Alfie 500 in order to get accumulated solid contamination particles out of the bowl.
Emmie 2 - cleaning of the bowl
This video shows how to clean the Emmie 2 in order to get accumulated solid contamination particles out of the bowl.
Alfie 500 - exchange pump seal
This video shows how to exchange the mechanical seal on the feedpump to prevent leakage and loss of performance.
Alfie 500 - exchange of o-rings
This video shows how to exchange the O-Rings which should be done at least once a year during intermediate service.
Emmie 2 - Exchange of o-rings
This video shows how to exchange the O-Rings which should be done at least once a year during intermediate service.
Alfie 500 - exchange dampers
This video shows how you exchange the vibration dampers if it vibrates during operation or at least once a year.
Good Practice Guide for Safe Handling and Disposal of metalworking fluids
The guide addresses the preparation, maintenance and eventual disposal of metalworking fluids and contributes towards a safe working environment. It has been prepared by a panel of experts from the UK Lubricants Association (UKLA)Metalworking Fluid Product Stewardship Group (MWFPSG) and from the Health and Safety Executive (HSE) with additional advice from experienced workshop managers and medical experts.