A model of efficiency and hygiene
Each Alfa Laval LKH UltraPure centrifugal is designed to move high purity water or similar viscosity product, gently and efficiently through any pharmaceutical manufacturing process. The Alfa Laval LKH UltraPure centrifugal pump with advanced, high precision, hydraulic design delivers precise fluid flow through the pumps and low NPSH requirements to provide optimal energy and cleaning efficiency, keeping the plant running, reducing energy costs, CO2 and waste chemical emissions increasing batch yields and process efficiency.
But efficiency isn't exclusive to the pump head and impeller. Regardless of single and double mechanical seal type each shaft seal is front-loaded and self-setting, where you can keep the pump head in line when changing the seal. Furthermore, each seal is externally-balanced and allows for quick disassembly to simplify seal replacement, and allows for easy visual inspection to reduce the risk of contamination.
All product contact parts – backplate, casing, impeller and the impeller retaining bolt – are made of AISI 316L stainless steel.
Discover Alfa Laval UltraPure
A heavy duty, yet shear sensitive Pharmaceutical pump
How much has your BioPharm pump been tested and validated?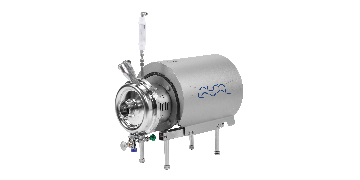 A proven, validated self-priming BioPharm pump solution